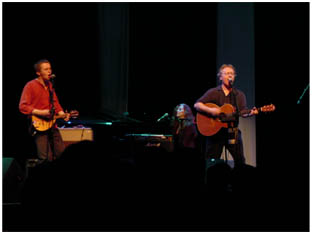 L to R - Moi, Bonnie Raitt and Paul Brady.
...Recording with songwriters including Gemma Hayes, Hank Wedel, Becky Roberts...sound engineering for Kila (Lemonade and Buns 2000), mixing an album for The Barleyshakes (Gach Ean)...

...Live playing (Guitar,bass and mandolin):
Touring with The Barleyshakes, Moya Brennan and the occasional guest appearance with Paul Brady (mandolin) including 5 nights of his MONTH at Vicar St, Dublin in 2001 and the live recording for his TV Show/Album/DVD, "Paul Brady Songbook" August 2002.... Mini tour with Meav and David Agnew in Tokyo, Dec 2003.


Since 2001, I have also co-produced 2 albums (The Valley Project, 2001-2002 and Luna Park, 2002 - 2003 with Kila due for release May 2003), written ad. jingles for The Irish Gas Board and The Sunday Tribune (Nat. Newspaper), written a few songs and played in bars with some friends of mine, just to keep up the chops!

The beat goes on...